Ashstar
Affiliations
Current
PokéClan
Name
Leader
Ashstar
Life
Age
78 moons old
Status
Deceased
Cause of Death
Unknown
Debut
PokeClan/Roleplay
Last Post
Unknown
Family
Father
Unknown tom
Mother
Mrs. Ketchum
Siblings
None
Mate
None
Kits
None
Education
Apprentice
Glaceonpaw
Deputy Position
Successor
Mistypool
Roleplay
Owner
Mel
Ashstar is a white and black tom with a blue Poke Ball like design on his red and black hat, blue jeans, red, black, and white shoes, a white, yellow, and black jacket, two lightning things on his face, and dark colored eyes. He is the leader of PokéClan.
Description
Appearance
Coming Soon
Health
Physical Health
Coming Soon
Mental Health
Coming Soon
Personality
Although warmhearted and determined, Ashstar is rash, stubborn and careless. He shares a close bond with his cheeky Pikachu that kept electrifying him in the beginning. Ashstar can be very dense, and can't tell the difference between someone who actually likes him or someone that sees him as a good friend. He also has this "hero complex".
Skills and Abilities
Moves
Ashstar is not a Pokemon. He is a Pokemon trainer.
Life
Backstory
Coming Soon
Roleplay
He is seen organizing patrols. Then, when Giratinashadow opens a portal to float into the Reverse World, Ashstar is pulled into the portal, with Dawnwing running after him. Giratinashadow drives them out of the world, and Ashstar and Dawnwing immediately bump into Barrydash when they tumble out of the portal.
After a while, Ashstar calls for a Clan meeting, and names the kits apprentices. His apprentice is Lugiapaw, and he jumps off the PokeRock and trains the new apprentice. 
Ashstar is usually seen all around the Clan, and calls for another Clan meeting after a while, naming the apprentices warriors. He somehow ignores the fight between the Creation Trio, and after the ceremony, Mistypool asks Ashstar if she should get a hunting patrol. Ashstar tells her to bring the Creation Trio along, but then changes the subject, noting that there needed to be a new deputy.
Ashstar calls out for the Clan to gather again, and announces there needs to be a new deputy. He calls out Mistypool, making her the new deputy of PokeClan. She tells him that she is flattered and extremely honored, when the meeting is over, and that she was extremely thankful. Ashstar replies that there was no need to thank him, and Mistypool protests, but then asks who the Creation Trio are again. Ashstar tells her that it was Giratinashadow, Palkiaspace, and Dialgatime. He then says to bring Shayminflower along too, so that the Creation Trio wouldn't fight again. Mistypool says that she'll keep a sharp eye on them, and calls their names.
Ashstar later asks Mistypool for a patrol, and he awaits her reply.
Art from real series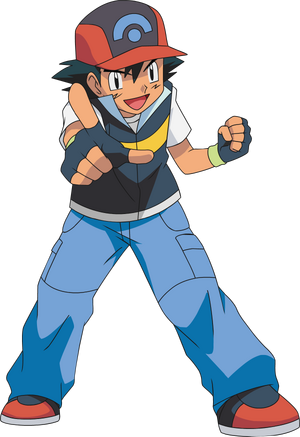 Trivia
Ashstar is based off Ash, from the real Pokemon series.
He has the clothing from Sinnoh Region.
Ad blocker interference detected!
Wikia is a free-to-use site that makes money from advertising. We have a modified experience for viewers using ad blockers

Wikia is not accessible if you've made further modifications. Remove the custom ad blocker rule(s) and the page will load as expected.