Copper
Affiliations
Current
None
Past
Kittypets
Names
Kittypets
Loner
Copper
Copper
Life
Age
Approx. 48 Moons (4 Years) at Death
Status
Deceased
Cause of Death
Killed by a Badger
Debut
Cheetahspirit's Mistake
Last Post
Unknown
Family
Father
Unknown
Mother
Unknown
Siblings
Hunch, Chip
Mate
Tansy
Kits
Airmead, Starling, Fell
Roleplay
Owner
Stoem
Copper
is a muscular, huge, bulky night black tom with a strong, large under bite, golden crowns on his two teeth that stick out of his mouth, and bright copper colored eyes.
Personality
Very headstrong, brave at heart, and determined, he is somewhat a warrior cat at heart. Very unlike a kittypet, with his gruesome scars and large overbite, he looks somewhat menacing, but he nothing more then a gentle giant with a barbed tongue.
Life
Coming Soon
Life Image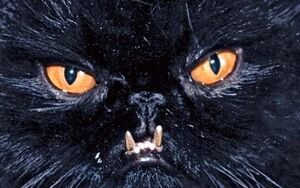 Character Pixels
Please do not edit this gallery unless instructed to.
Quotes
Coming Soon
Family
Mate: Tansy - Living
Kits: Expecting
Brothers: Hunch - Living, Chip - Living
Trivia
He is one of the main characters in Cheetahspirit's Mistake.
The reason he has golden crowns is because his teeth are outside his mouth, they could decay faster due to the bacteria, so the crowns cover the teeth and prevent decay.
Ad blocker interference detected!
Wikia is a free-to-use site that makes money from advertising. We have a modified experience for viewers using ad blockers

Wikia is not accessible if you've made further modifications. Remove the custom ad blocker rule(s) and the page will load as expected.