Faunaspirit
Affiliations
Current
StarClan
Past
The Wind Chasers
Names
Kit
Apprentice
Warrior
Queen

Faunakit
Faunapaw
Faunaspirit
Faunaspirit
Life
Age
5.7 years (approx. 68.4 moons) at death
Status
Deceased
Cause of Death
Drowned
Debut
Unknown
Last Post
Unknown
Family
Father
Unknown tom
Mother
Unknown she-cat
Siblings
None
Mate
Stark
Kit
Agateheart
Roleplay
Owner
Giaria
Faunaspirit is a mottled tortoiseshell she-cat with amber eyes. She can heal injuries.
Description
Appearance
Coming Soon
Health
Physical Health
Coming Soon
Mental Health
Coming Soon
Personality
Faunaspirit is sweet and kind, but can also be fierce, defensive, and feisty. She has mood swings.
Skills and Abilities
Coming Soon
Life
Kithood and Adolescence
Coming Soon
Adulthood
Coming Soon
Roleplay
Coming Soon
Relationships
Family
Coming Soon
Friends/Acquaintances
Coming Soon
Enemies
Coming Soon
Trivia
Her original power was to change into whatever she likes, and to speak any language. This was changed to fit more with Agateheart, her son.
Quotes
Coming Soon
Images
Life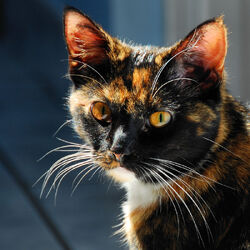 Pixels
Please do not edit this gallery unless instructed to.
Ad blocker interference detected!
Wikia is a free-to-use site that makes money from advertising. We have a modified experience for viewers using ad blockers

Wikia is not accessible if you've made further modifications. Remove the custom ad blocker rule(s) and the page will load as expected.