Felix is currently inactive and is available at the Adoption page.
Felix is a large, buff tuxedo tom with ratty fur and yellow-green eyes. He is proud and a terrible flirt, and the father to his son, Clyde, and his daughter, Bella. His mate was named Diana, who died giving birth. Their other kits died along with their mother.
Description
Appearance
Tall and burly, with a wide chest. Felix's legs are short, but compact. His jawline is firm and his tail is long and straight, perfect for balancing. He has large paws that can carry him long distances, but his claws are short and blunt. Three of his paws are black, therefore the pads on those feet are black as well, while his one white paw has a pink pad.
Fur-wise, Felix's pelt is very long, dirty, and unkempt, mostly from all the traveling he's done. His entire underside is white, with the exception of his hind legs and left front leg, which are black in color.
Felix's eyes are almond-shaped and always narrowed in a scowl, even when he's smiling. They are a shade of yellow-green. His whiskers are long and white, his nose is a bright pink, and his teeth are yellowed. It is to be noted that some of them have fallen out. Felix's ears are triangluar and pointed.
Health
Physical Health
He is mostly made of muscle from traveling, and the rest is fur. Felix doesn't take care of himself very well, resulting in loosing some of his teeth and his ungroomed pelt. However, he takes care of his two young ones just as a mother would, keeping them cleaner than himself and removing ticks off of his kit's pelts without worrying about his own.
Mental Health
He has no known mental diseases or issues, and is quite an open book about his emotions. 
Personality
Coming Soon
Skills and Abilities
Coming Soon
Life
Backstory
Coming Soon
Roleplay
Coming Soon
Relationships
Family
Mate:
Diana: Deceased, Residence Unknown
Son:
Clyde: Living
Kits:
Unnamed Kits: Status Unknown; Likely Deceased
Mother:
Agatha: Deceased, Residence Unknown
Father:
Cleon: Deceased, Residence Unknown
Notable
Agatha: He shared a very hostile relationship with his mother throughout his kithood. He hated her for trying to get in his way and it bothered Felix why she loved him so much. In his mind, she was supposed to stay out of his life after he grew up, like loners, but she insisted on giving him advise as he grew. She helped nurse Felix's kits after he brought them home, and the two reconciled for a short while, until a falling tree branch eventually ended his mother's life.
Love Interests
Diana: The two were only a one-night stand. They never loved each other.
Friendships/Acquaintances
Enemies
Coming Soon
Trivia
Coming Soon
Quotes
Coming Soon
Images
Life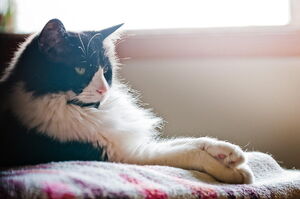 Character Pixels
Please do not edit this gallery unless instructed to.
Ad blocker interference detected!
Wikia is a free-to-use site that makes money from advertising. We have a modified experience for viewers using ad blockers

Wikia is not accessible if you've made further modifications. Remove the custom ad blocker rule(s) and the page will load as expected.