This character is a NPC and can be claimed freely.
Fennekinpaw
Affiliations
Current
PokeClan
Name
Apprentice
Fennekinpaw
Life
Age
Unknown
Status
Living
Debut
Unknown
Family
Father
Unknown tom
Mother
Unknown she-cat
Sibling
Vulpixpaw
Mate
None
Kits
None
Roleplay
Owner
None
Fennekinpaw is a small, soft-furred, silky, creamy yellow tom with a white, small, pointed muzzle, a poofy, round tail with a orange-red tip, large ears which have long red fur inside, and crimson eyes the colour of burning flames.
Personality
Fennekinpaw has a very serious, honest, and straightforward attitude. He is a terrible liar and you can often tell when there's something nagging on his mind. Despite being serious, he has an outgoing and warm-hearted personality. He can also be witty and sarcastic.
Life
Fennekinpaw was born with his sister Vulpixpaw. He was teased often about his size, but what he lacks for in size, he makes up for in intellectual ways, and always managed to fight back effectively.
Official Artwork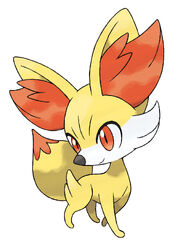 Character Pixels
Please do not edit this gallery unless instructed to.
Trivia
Ad blocker interference detected!
Wikia is a free-to-use site that makes money from advertising. We have a modified experience for viewers using ad blockers

Wikia is not accessible if you've made further modifications. Remove the custom ad blocker rule(s) and the page will load as expected.