Fizzlefoot is currently inactive and is available at the Adoption page.
Fizzlepaw is a torbie she-cat of Maine Coon heritage with stunning green eyes.
Personality
Fizzlekit is playful and silly. She gets happier as the weather gets colder, and catches more prey in leaf-bare than green-leaf.
Life
Fizzlekit is born, then some time later she has an apprentice ceremony.
Trivia
Fizzlekit is based on a fan-fic character from one of Raven's friends.
She was originally named Frostkit.
She has been called Frizzlekit, but her name does not have an R in it.
Character Pixels
Please do not edit this gallery unless instructed to.
Life Image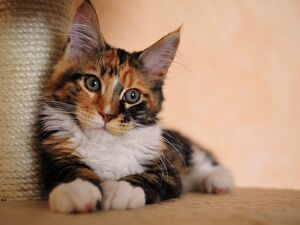 Ad blocker interference detected!
Wikia is a free-to-use site that makes money from advertising. We have a modified experience for viewers using ad blockers

Wikia is not accessible if you've made further modifications. Remove the custom ad blocker rule(s) and the page will load as expected.