Flamepelt, formerly Flamestar, is a massive tom with a ginger colored pelt and green eyes.
Description
Appearance
Coming Soon
Health
Coming Soon
Character
Coming Soon
Abilities
Coming Soon
Biography
Adulthood
He is first seen in Rowanflight's Quest while walking in what used to be ThunderClan territory with Rowanflight's brother, Cloudsong, and mother, Whistlewing. When those who participated in Rowanflight's Quest see the trio, they run over to greet them. He explains that Twolegs took over the territory, attacking them with huge dogs, wiping out ShadowClan, RiverClan, and WindClan, and most of ThunderClan, and that they were the only survivors.
Rainface offers to lead an attack on these dogs to avenge the destruction of the clans, but Flamestar and his companions immediately decline the offer, as every territory has been made a Twolegplace. Then he suggests that if Rowanflight was able to find SummerClan as a mere apprentice, then she could lead them back to their own territory so that they could stay there. Silverflower agrees, insisting that they come. Rainface suggests resting before they travel back. Flamestar leads the group to a cave where he and the survivors have been residing. He then tells everyone to call him Flamepelt, as they would surely already have a leader and he is on his last life. The next day, Flamepelt and the group get to SummerClan camp to be greeted by their waiting clanmates.
Relationships
Family
Coming Soon
Friendships/Acquaintances
Coming Soon
Quotes
Coming Soon
Images
Life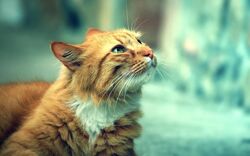 Pixels
Please do not edit this gallery unless instructed to.
Ad blocker interference detected!
Wikia is a free-to-use site that makes money from advertising. We have a modified experience for viewers using ad blockers

Wikia is not accessible if you've made further modifications. Remove the custom ad blocker rule(s) and the page will load as expected.