Francerose
Affiliations
Current
HetaliaClan
Name
Given
Warrior: Francerose
Life
Age
Unknown
Status
Living
Debut
Unknown
Roleplay
Owner
.:Twinetail:.
Francerose is a handsome, long-haired, white tom with blue eyes. He is currently a warrior of HetaliaClan.
Personality
Francerose is very flirtatious and tends to see beauty in most, even if it's not feline, be it male or female. He is seen as a bit inappropriate towards others, though his affections mean well, and speaks with a strong French accent. Francerose is shown to have a rivalry with Englandleaf, and his kittypet/human name is Francis Bonnefoy.
Human Form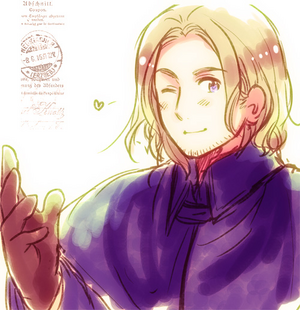 Ad blocker interference detected!
Wikia is a free-to-use site that makes money from advertising. We have a modified experience for viewers using ad blockers

Wikia is not accessible if you've made further modifications. Remove the custom ad blocker rule(s) and the page will load as expected.