Gravitykit is currently inactive and is available at the Adoption page.
Gravitykit
Affiliations
Current
The Wind Chasers
Name
Given
Kit: Gravitykit
Life
Age
Unknown
Status
Unknown
Debut
Unknown
Roleplay
Owner
None
Gravitykit
is a striking, muscular tortie tom with blazing, fire-orange spots, night-black spots, a white chest, legs, and tail tip.  Gravitykit has large, heart-warming, very pale ice-blue eyes.
Personality
Gravitykit is calm and loving, and is very lost without his mother.  He's generly loving, but is amazingly strong. He's very sneaky, and can easily sneak out of camp. Gravitykit often feels lonely without his mother, and feels odd being born to an elderly she-cat.
Life
Gravitykit is born to two unnamed cats in The Wind Chasers. His mother dies when she gives birth to him.
Gravitykit notices that Poisonshade is upset, and he follows her.  He then curls up next to her.
Family
Quotes
None Yet
Powers
Gravitykit can control Gravity.
Gravitykit can see the future and past.
Gravitykit can transmit his dreams, thoughts, and sights with other cats if he touches his head to another cat's head.
Life Image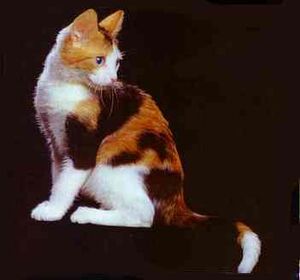 Trivia
Gravitykit can have kits, but it still depends if he ever gets a mate. x3
Ad blocker interference detected!
Wikia is a free-to-use site that makes money from advertising. We have a modified experience for viewers using ad blockers

Wikia is not accessible if you've made further modifications. Remove the custom ad blocker rule(s) and the page will load as expected.