Lilacshine
Affiliations
Current
SplashClan
Names
Kit
Apprentice
Warrior
Lilackit
Lilacpaw
Lilacshine
Life
Age
18 moons
Status
Living
Debut
Unknown
Family
Father
TBA
Mother
TBA
Sibling
TBA
Mate
Jumpclaw (formerlly)
Kit
Two stillborns
Roleplay
Owner
Meerkat
Lilacshine 
is a lilac point siamese with blue eyes. She is a warrior of
SplashClan
under
Newtstar's
reign and the former mate of
Jumpclaw
.
Once a calm, responsible cat, her recent miscarriage has made her fearful of her former mate, even though he never minded that she miscarried. The incident has also made her more anti social and insecure, as well as having less and less to eat.
Description
Appearance
Coming soon
Health
A bit of a mess physically, Lilacshine's lack of eating has made her lost weight and is now rather thin. This also makes her a bit more suspectable to illnesses
Lilacshine's mental health has taken a dive after her miscarriage. Since this, she has begun to suffer insomnia and often feels tortured by thoughts about her pregnancy.
Character
As a kit, Lilacshine was calm and responsible, often the piece-maker of her group of friends. Her calm demeanor often kept her out of trouble, unlike her brother. Even after meeting her future mate, Lilacshine remained calm and friendly.
However, after being a bit careless suring her pregnancy, causing her miscarriage, Lilacshine's personality took a sharp turn. Becoming fearful of what her mate would say, when he tried to comfort her, she broke the relationship off. Her fearfulness also impacts on her social life, withdrawing from the other cats in the clan.
Skills
Coming soon
Biography
Kithood
Coming soon
Adolescence
Coming soon
Adulthood
Coming soon
Pedigree
Mate
Jumpclaw (formerlly)- Living
Brother
Ratwhisker- Living
Kits
Two unnamed kits- Deceased, residence unknown
Relationships
Family
Ratwhisker- "He's just a big bully who wants you to notice him! I've always been scared of him because of his constant yelling at me and his fights with me."
Coming soon
Notable
Coming soon
Love interests
Jumpclaw (formerlly)- Coming soon
Other
Coming soon
Enemies
Coming soon
Trivia
Coming soon
Images
Life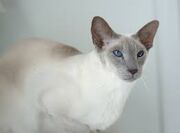 Ad blocker interference detected!
Wikia is a free-to-use site that makes money from advertising. We have a modified experience for viewers using ad blockers

Wikia is not accessible if you've made further modifications. Remove the custom ad blocker rule(s) and the page will load as expected.