Lilypaw is currently inactive and is available at the Adoption page.
Lilypaw is a dappled gray-white she-cat with blue eyes.
Description
Appearance
Lilypaw is a dappled gray white she-cat with blue eyes. She has a snow-white pelt, with sections of darker gray flecks on patches of pale fur. Her pelt is extremely long, and she usually keeps it well groomed. She has shorter legs, and her ears are pointed at the top.
She has bright-pink paw pads, and a darker pink nose.
Health
Lilypaw is a healthy, sleek-furred apprentice. She takes great care to make sure she's never unnecessarily injured, and grooms her pelt well each morning. Lilypaw has shorter legs, and therefore, isn't able to fight as well. She practices battle moves often, to make sure she's at her best when the time for a fight comes.
Character
Lilypaw is a quiet, shy cat. She is usually found out in the forest, practicing alone, or just reflecting on things. While she enjoys hanging out with her sister, Rosepaw, Lilypaw gets easily annoyed by cats who talk too much. Some would refer to her as a "wet blanket", as Lilypaw is the opposite of a cheery cat.
She is a very loyal cat, and would die to protect her Clanmates. This was one of the first (and last) lessons her father taught her before she died, and she takes it seriously. Lilypaw strives to be the best in everything she does, but often chooses to slack on certain aspects of her social life. Lilypaw doesn't have any hopes or dreams, in the normal sense. She much prefers to prepare for the unexpected, and tackle it head on when surprises come. Lilypaw is a firm believer that her ancestors are looking out for her, and especially her parents.
Lilypaw was once a cheery, bubbly cat as a kit, much like her sister. However, the death of both her parents was crushing, and she never quite is the same afterwards. Lilypaw tries each day to move on from the past, but feels trapped in herself. She wishes to confide in someone, but her sister doesn't listen to her fears - or, to anything, really.
Abilities
Lilypaw is much better at hunting than fighting. This feature was inherited from her mother, and her slender frame helps her hunt in the trees. Lilypaw's white pelt helps her hunt in the snowy winters, as well. She is very quiet on her paws, and often, cats don't sense her presence until she's basically in front of them.
Lilypaw has shorter legs, and this hinders her battling potential. However, her mother always used to insist her legs would grow as she matured.
Life/Biography
Childhood
Coming Soon
Lineage
Father:
Brackentail: Deceased, Verified StarClan member
Mother:
Featherheart: Deceased, Verified StarClan member
Sister:
Rosepaw: Living
Quotes
Coming Soon
Cameos
Coming Soon
Ceremonies
Coming Soon
Relationships
Coming Soon
Images
Life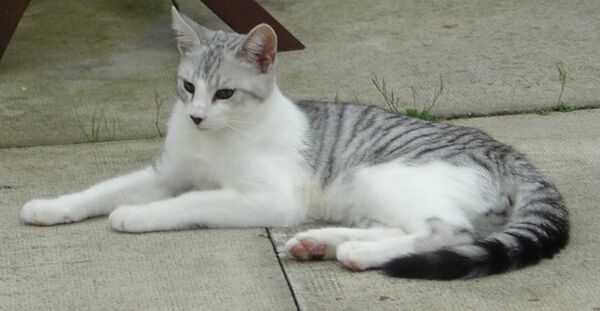 Character Pixels
Please do not edit this gallery unless instructed to.