This character is a NPC and can be claimed freely.
Luckfur
is a white, dark gray, and brown she-cat with brownish-gray eyes.
Personality
Luckfur is close to all of her siblings, but is very independent and hot-tempered. She would give her life for her siblings, though.
Life
Her parents are Patchtooth and Silverflower, though her foster mother was Branchheart. Her siblings are Angelkit, Featherpelt, Moonface, and Goldentalon.
As a kit, Luckfur had one of the worst illnesses the Clan had seen. She, after moons of the use of Riversplash's herbs, had gotten better. She has a happy life in SummerClan.
Later, she receives her apprentice name and, much later after that through hard work, her warrior name.
Luckfur is seen among the crowd surrounding the nursery as Songbreeze is about to give birth. She is shown to have a friendship with Feathershine.
She is a pretty minor character.
Life Image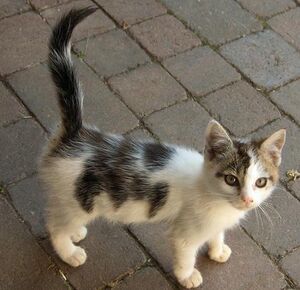 Ad blocker interference detected!
Wikia is a free-to-use site that makes money from advertising. We have a modified experience for viewers using ad blockers

Wikia is not accessible if you've made further modifications. Remove the custom ad blocker rule(s) and the page will load as expected.