Maplestorm is a petite, but muscular, short-furred gray-brown she-cat with large, thin ears, long hind paws, and icy blue eyes.
Description
Appereance
Coming Soon
Character
Maplestorm is very intelligent. She has the brain of an eagle, and is an excellent tracker and hunter because of it. Although, she is very clumsy in battle and a weak fighter. She isn't at all shy, and likes to speak her opinion. Maplestorm is also very curious, but is also a bit cautious, making sure that curiosity won't kill the cat. She is hyperactive and giddy, all the time. Her emotions are constantly battling - at one moment she could be hyper, at the next extremely quiet.
Skills and Abilities
Coming Soon
Life
Maplekit is born to Thrushfall and Snowfern in SpringClan. Her sister, Reachkit, is born dead. She is named by her parents, and lets out a tiny growl when her father licks her on the head, curious about her new surroundings.
Maplekit is shown to be able to hear soon, and is struggling to open her eyes, so she can see her new world. When she opened her eyes, she is very confused, squealing for Snowfern.
She eventually develops her personality and starts to explore. She meets Lostheart and notices her declining her mate, Cheetahspirit's prey. Maplekit interrupts that Lostheart is too skinny and makes sure she eats, and annoys the she-cat when Maplekit stares at her to make sure she eats it all.
Trivia
Maplestorm will (most likely) not have a mate. If she does, no kits will be born.
She looks a lot like her sister, Ruddkit, (I imagine) As both of them are gray-brown in pelt color.
Life Image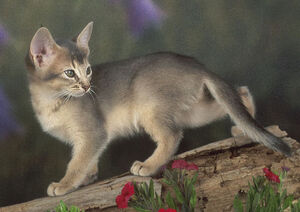 Character Pixels
Please do not edit this gallery unless instructed to.
Quotes
Pedigree
Father:
Thrushfall - Deceased
Mother:
Sisters:
Half-Sisters:
Half-Brother:
Darkslash - Status Unkown
Half-Nieces:
Half-Nephews:
Chistledpaw - Deceased, verified StarClan member
Nutfall - Status Unkown
Half-Grandniece:
Jaystep - Status Unkown
Half-Grandnephew:
Ceremonies
Coming Soon
Ad blocker interference detected!
Wikia is a free-to-use site that makes money from advertising. We have a modified experience for viewers using ad blockers

Wikia is not accessible if you've made further modifications. Remove the custom ad blocker rule(s) and the page will load as expected.