Martenfang is large brown spotted tabby tom with orange eyes of oriental descent 
Personality
One thing that Martenfang inherited from his father was when provoked can very much aggression, often with harsh insults and claws, if pushed to a point.  He was very ambitious and wanted to be leader when he was alive. He was stern and obeyed the warrior code. The tom was very into what was going in clan and tried his best to make him popular with senior warriors. 
Life
Family
Mother:
Duckwhisker; deceased
Father:
Harestep; deceased
Sisters:
Grousepaw; deceased, Railkit; deceased
Brothers:
Weaselwhisker; still living, Muntjacpaw; deceased
Uncles:
Aaron; still living, Rabbitfoot; deceased, Ryepelt; deceased, Barleyfur; deceased
Aunt:
Adela; still living
Grandmother:
Bekki, deceased
Grandfather:
Loachface; deceased
Trivia
Quotes
Character Images
Life Image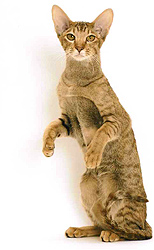 Picture found at
mcinkats.com
Ad blocker interference detected!
Wikia is a free-to-use site that makes money from advertising. We have a modified experience for viewers using ad blockers

Wikia is not accessible if you've made further modifications. Remove the custom ad blocker rule(s) and the page will load as expected.