This character is a NPC and can be claimed freely.
Mistypool
Affiliations
Current
PokeClan
Name
Given
Warrior: Mistypool

Deputy: Mistypool

Life
Age
Unknown
Status
Living
Debut
PokeClan 3
Roleplay
Owner
None
Mistypool is a pretty peachy-cream and ginger female with a yellow shirt, red overalls that attatch to green short shorts, red, white and yellow shoes and bright green eyes.
Personality
Mistypool is very bouncy and kind, but normally calm and a tomboy. She can get on her nerves easily, but is pretty much just a breezy... person?... with a friendly personality.
Life
Coming Soon
Art from anime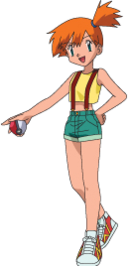 Trivia
Coming Soon
Ad blocker interference detected!
Wikia is a free-to-use site that makes money from advertising. We have a modified experience for viewers using ad blockers

Wikia is not accessible if you've made further modifications. Remove the custom ad blocker rule(s) and the page will load as expected.