Chancepaw
is a small long fured black and white tom with long, winding tail, and deep blue eyes
Personality
He is fearless, bold, and strong willed.
Life
He is born to Emeraldblaze and Thistleclaw along with his siblings Patchkit, Luckykit, Rubykit, and Leopardkit in SplashClan.
Rest Coming soon~
Life Image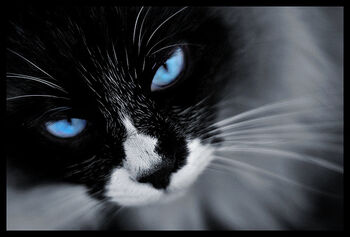 Character Pixels
Please do not edit this gallery unless instructed to.
Quotes
CS
Ceremonies
CS
Family
Father - Thistleclaw - Living
Mother - Emeraldblaze - Living
Brothers - Luckykit - Living, Patchkit - Living
Sisters - Rubykit - Living, Leopardkit - Living
Aunts - Runningsoul - Living, Emberpelt - Living, Singedstripes - Living
Uncle - Canyonlagoon - Living
Grandfather - Venomstrike - Living, Mudshine - Living
Grandmother - Twilightrose - Living, Soakedmoss - Living
Great Aunts - Bloomfrost - Living, Wingheart - Living, Soaringsong - Living, Oceanbreeze - Living
Great Uncles - Flashfire - Living, Dragonkit - Deceased; verified StarClan member, Lakestorm - Living
Great Grandfather - Froststar - Deceased; verified StarClan cat
Great Grandmother - Shellshore - Living
Trivia
He has SpringClan blood, because his father, Thistleclaw, was a SpringClan cat
His warrior name will be Chanceflight.

He won't make it to be a warrior, he'll die from Feline Leukemia
Ad blocker interference detected!
Wikia is a free-to-use site that makes money from advertising. We have a modified experience for viewers using ad blockers

Wikia is not accessible if you've made further modifications. Remove the custom ad blocker rule(s) and the page will load as expected.