This character is a NPC and can be claimed freely.
Mosswhisker
Affiliations
Current
StarClan
Past
WinterClan, Loners & Rogues
Name
Given
Kit: Moss/Mosskit

Apprentice: Mosspaw

Warrior: Mosswhisker

Life
Age
Unknown
Status
Deceased
Cause of Death
Mauled by foxes/Blood loss
Debut
Unknown
Last Post
Unknown
Family
Father
Unknown tom
Mother
Unknown she-cat
Sibling
Sedgeheart
Mate
the day hedgehogs fly
Kits
None
Roleplay
Owner
None
Mosswhisker is a dark tortie she-cat with light green eyes.
Personality
Mosswhisker is constantly depressed about her feelings towards toms and she-cats. She doesn't really have a close bond with anyone, but is okay with that. She is a loner, and intends to stay that way. She is a bit of a coward.
Life
Mosskit and her sister, Sedgekit, are taken into WinterClan as young kits.
Mosskit isn't seen at all until she returns during the WinterClan Roleplay.
Mosswhisker is seen running from the badger attack, remembering Frostshell's death.
She leaves her Clan to join AutumnClan along with her best friend Kumquatcloud. Kumquatcloud and Mosswhisker are ambushed by foxes on the journey, and Mosswhisker is extremely injured. Ripplesong and Shadowforce find the duo and bring them back to camp, but Mosswhisker dies of her wounds and is not able to be saved.
Cameos
Life Image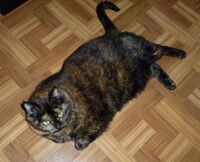 Quotes
Coming Soon
Character Pixels
Please do not edit this gallery unless instructed to.
Trivia
She is bisexual.
Mosswhisker has a crush on Kumquatcloud ever since they decided to leave WinterClan together, but they will never be together. Ever. because I'm mean ouo
Ad blocker interference detected!
Wikia is a free-to-use site that makes money from advertising. We have a modified experience for viewers using ad blockers

Wikia is not accessible if you've made further modifications. Remove the custom ad blocker rule(s) and the page will load as expected.