This character is a NPC and can be claimed freely.
Nightshade is a black she-cat of oriental descent with green eyes.
Description
Appearance
Health
Physical
Mental
Personality
Skills and Abilities
Life
Before the Roleplay
Roleplay
Family
Father: Ash - Deceased,still remembered.
Mother: Spiderstorm - Alive
Sister: Batkit - Deceased, still remembered.
Mate: Kindleheart - Alive
Son: Ashkit - Alive
Daughters: Honeykit, Palekit - Alive
Aunt: Wintergaze - Alive
Uncle: Nighthollow - Alive
Half-Aunts: Silentnight, Cloudnose - Both Deceased, still remembered.
Grandfather: Thistlethorn - Deceased, faded away.
Grandmother: Shadetail - Deceased, faded away.
Great-Aunt: Blackfang - Deceased, faded away.
Cousins: Frogleap, Jaypatch - Both Deceased, still remembered.
Cameos
Quotes
Images
Life Image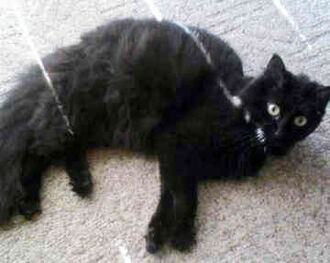 Character Pixels
Please do not edit this gallery unless instructed to.
Trivia
Ad blocker interference detected!
Wikia is a free-to-use site that makes money from advertising. We have a modified experience for viewers using ad blockers

Wikia is not accessible if you've made further modifications. Remove the custom ad blocker rule(s) and the page will load as expected.