Pinepaw
is a massive, fluffy long fured brown tabby tom with a soft white chest, underbelly, paws, and tail, with a black tail tip, ear, and dappled face, brown ear tufts, long, curling white whiskers, and sharp amber eyes.
Personality
He is intelligent, encouraging, playful, and sensitive.
Life
He is born to Spiritheart and Longclaw along with his siblings Chistledkit, Fernkit, and Fishkit in SpringClan. His mother dies giving birth to them.
He is seen playing with his brother, Chistledkit, with a floating leaf in camp. When Sapphostar succeeds Darknight and becomes leader after Froststar dies, Spiritheart and Longclaw leave because of being insulted. They join SplashClan.
He is seen at Emeraldblaze's kitting, when Chistledkit calls his littermates boring. He retorts back at Chistledkit, and the two wrestle on the floor.
Life Image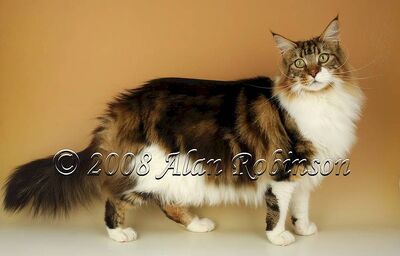 Character Pixels
Please do not edit this gallery unless instructed to.
Quotes
CS
Ceremonies
CS
Family
CS
Trivia
He is part SkyClan and a pure SpringClan cat, because his grandparents, Strikefire and Rainstripe, are SkyClan cats. His mom and ancestory on Spiritheart's side is pure SpringClan.
He resembles a Maine Coon cat, and will look exactally like his Life image when he grows up, besides the lack in amber eyes.
It is hinted that he has Maine Coon heritage, but it is still unknown.
As being brothers with Chistledpaw, he and him always have each other's backs, and always will.
Ad blocker interference detected!
Wikia is a free-to-use site that makes money from advertising. We have a modified experience for viewers using ad blockers

Wikia is not accessible if you've made further modifications. Remove the custom ad blocker rule(s) and the page will load as expected.