Primrose
Affiliations
Current
Kittypet
Name
Kittypet:
Primrose
Life
Age
Approx. 34 moons
Status
Living
Debut
Unknown
Family
Father
Unknown tom
Mother
Unknown she-cat
Siblings
None
Mate
Adder (formerly)
Kit
Phoenix
Roleplay
Owner
Sorrel
Primrose is a long-haired, light brown tabby she-cat with a white chest and belly, with darker paws and yellow eyes. She is a kittypet, the former mate of Adder and mother of Phoenix.
Description
Personality
Primrose is sweet, comforting, and bouncy. She's energetic, friendly and very playful.
Appearance
Primrose keeps her long, fluffy fur neat and well-groomed. She's a light brown tabby with a white chest and belly, with spots of her tail. Her paws are a darker colour than the rest of her. Her eyes are a bright yellow, and she has a bright pink nose and paw pads. One of her ears is torn, and she has a woven blue collar.
Health
Physical Health
Coming Soon
Mental Health
Coming Soon
Life
Backstory
Coming Soon
Roleplay
Primrose is first seen investigating her new garden. Her twoleg had not long moved into the new nest with her,and had just unlocked the cat-flap. She rolls on the grass, and it watched by Shrek, another kittypet. She dosen't see him, so she scrabbles over the fence.
Primrose then meets Skye, a neighbouring kittypet. Skye reveals that her twoleg has died, and Primrose is shocked and sorry for her. Primrose decides to help Skye, and offers for her to live with her. Skye is delighted and agrees. Primrose helps Skye remove her collar and roughs her up a bit, to appear like a rogue. Primrose's twoleg falls for it, and adopts Skye.
Primrose spends some time in the living room, asleep. She later goes out and meets Jinx, a kittypet living next door. She later watches Jinx and his sister Praline confront Pelli, Bliss and Dancer, some loners in the forest. Primrose hears Jinx hissing at Bliss, so when they are out of sight, Primrose demands what 'is his game'. Jinx denies it, and goes into his twoleg nest in annoyance.
Skye gives birth to a kit named Clover, but abandons her in a bin. Clover is found and rescued by Jasper, unbeknownst to Skye. As Skye returns to Primrose, she sniffs the air, asking if Skye smelt milk. Skye quickly denies it and hides the fact that she has given birth, but Primrose is suspicious. Skye then tries to find Clover, but thinks she is dead when she isn't found. In grief, she collapses. Primrose and Cosmo follow her, and help her home, but they are suspicious of a rogue named Adder, who mocked Skye.
Primrose goes for a walk in the forest, but is attacked by Adder, who pushes her over. She angrily demands what he wants, and he replies by telling her to be quiet, as he was 'trying to figure out how to do this." Primrose asks what he means, and Adder mates with her, despite the fact that Primrose clearly dosen't want to. Primrose is furious, swearing revenge as she limps home, bleeding from where he clawed her.
Primrose collapses under a bush in her garden mentally paralysed. She is found by Skye and Cosmo, who are shocked by her injury. As the twoleg comes home, Skye leads her to Primrose, and the twoleg takes Primrose to the vet, and her injury is stitched up. A few days later, Primrose is brought home. Skye greets her affectionatly, and Primrose dosne't want to talk about what happened to her. Primrose attempts to hide her pregnancy, but Skye finds out. Sometime after, Primrose gives birth to Phoenix, who she loves dearly. The twoleg keeps Phoenix instead of selling him, to Primrose's delight.
Primrose continues to bond with her son, and notices the romance blossoming between Skye and Cosmo. Primrose spends most of the Winter snuggled up indoors, asleep. When Spring arrives, she doesn't hesitate in enjoying the new warmth. Phoenix is later run over and killed by a monster, to her horror.
Images
Life image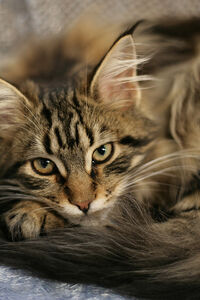 Ad blocker interference detected!
Wikia is a free-to-use site that makes money from advertising. We have a modified experience for viewers using ad blockers

Wikia is not accessible if you've made further modifications. Remove the custom ad blocker rule(s) and the page will load as expected.