Quail
Affiliations
Current
Loner
Past
Kittypet
Names
Kittypet
Loner

Squeak
Quail

Life
Age
7 moons
Status
Living
Debut
Unknown
Family
Father
Unknown
Mother
Feather
Siblings
None
Mate
None
Kits
None
Roleplay
Owner
Skye
Quail 
is a soft, long haired,  brown mackerel tabby she-cat with feather like white markings and green eyes. She was born to and unknown tom and
Feather
as their sole kit. She is currently a loner, but takes in interest in the Clans ways, particularly
SummerClan
. She is a loyal, condfident she-cat who isn't affraid to speak her mind, which gets her into a lot of trouble. She has a bitter attidude which catches the an eye of a special cat...
Descripiton
Appearance
Coming Soon
Health
Physical health, Quail is very stable. Quail once was a kittypet, os she got immuinity shots which makes her immune to greencough. Quail was left by her mother and once Quail got outside, she got a cold and a fever which caused her to collaspe in weakness and she woke up her legs burning. She caught an infection from her leg and was saved from a mysterious cat, kind of like Fallen Leaves saving Hollyleaf, and she left, not knowing it was her father who saved her. Unbeknowst, Quail's leg was broken and her father didn't know, so he only cleaned up the wound and he leg never mended properly. She learned to work on it, so you can't notice it and she never shows it as a weakness, but a battle wound she survived.
Mental health, Quail is in a very stable condition but has sufferd post natal depression when she figured out her mother left her abandoned. She will show signs of depression when a death will (It's a secret :3)
Character
If you really need to know some what of her personality, she has a general 'Sandstorm' attitude. Other wise, Coming Soon 
Abilities
Quail has long legs and claws which allow her to be able to run fast, climb fast and jump high. When she notice her leg was broken, she allowed it mend but did climbing and running exercises do keep her lame limb strong and useful. She survived on mostly birds which gives off signs she is a descendant of SkyClan.
Biography
Kittenhood
Coming Soon
Adolescences 
Coming Soon
Adulthood
Coming Soon
Pedigree
Coming Soon
Relationships
Family
Coming Soon
Love Interests
Coming Soon
Friends
Coming Soon
Notable
Coming Soon
Other
Coming Soon
Trivia
Quail will join SummerClan

Her warrior name will be Quailfeather
Her mentor will be Smokestorm
Her mate will be Stormpaw

She has kittypet blood from her mother and father
She has SkyClan blood from her great grandfather, Sharpclaw, and her great grandmother, Cherrytail.
Her father wil be annouced later
Quotes
Coming Soon
Ceremonies and Mentions
Ceremonies
Coming Soon
Mentor Mentions
Coming Soon
Cameos
Coming Soon
Images
Life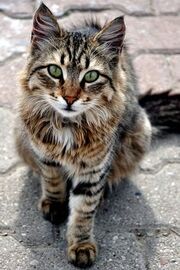 Character Pixels
Please do not edit this gallery unless instructed to.
Ad blocker interference detected!
Wikia is a free-to-use site that makes money from advertising. We have a modified experience for viewers using ad blockers

Wikia is not accessible if you've made further modifications. Remove the custom ad blocker rule(s) and the page will load as expected.