Raven
Affiliations
Current
Rogue
Name
Given
Raven
Life
Age
Unknown
Status
Unknown
Debut
Unknown
Family
Father
Unknown tom
Mother
Unknown she-cat
Siblings
None
Mate
Unknown Rogue
Kits
Ravenheart, Flare
Roleplay
Owner
Ravenfang
Raven is a black she-cat with blue eyes. She looks exactly like her daughter, Ravenheart.
Personality
Raven is hostile and somewhat a tomboy. Only Duskfeather can get her off gaurd.
Life
Raven is first seen when she comes to claim Ravenkit. She is a rogue and wants Ravenkit to be one too. Next, she is convinced to join the clan by Shimmermoon, who shares a certain bond with Ravenkit. She is later seen with Leopardclaw, drooling over Duskfeather.
She is not seen after this.
Character Pixels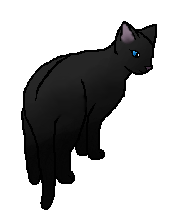 Quotes
Trivia
Ad blocker interference detected!
Wikia is a free-to-use site that makes money from advertising. We have a modified experience for viewers using ad blockers

Wikia is not accessible if you've made further modifications. Remove the custom ad blocker rule(s) and the page will load as expected.