Robinstripe
Affiliations
Current
SpringClan
Names
Kit
Apprentice
Warrior
Robinkit
Robinpaw
Robinstripe
Life
Age
Unknown
Status
Living
Debut
Unknown
Education
Mentor
Cloudheart
Roleplay
Owner
Coop
Robinstripe is a tabby tortoiseshell and white she-cat with green eyes.
Description
Appearance
Robinstripe is a rather compact and sturdy built cat with wide shoulders and is considered to be on the heavy side of cats. She isn't fat or overweight by any means, however, she does have soft parts such as her belly and face, but, that's about as far as it goes. She's got strong legs as she likes to exercise as a means of getting bored or too 'soft around the edges'.
The she-cat has a fairly evenly mottled coat. It is described as calico due to its colourations alongside the white markings on her chest and paws. She has a rich ginger and brown coat with thick tabby markings adorning her pelt making her known as a tabby tortoiseshell. Robinstripe has rich, green eyes that share their colour with many of the plants found in her Clan's home territory.
Character
Coming Soon
Abilities
Coming Soon
Biography
Roleplay
Coming Soon
Relationships
Coming Soon
Quotes
Coming Soon
Images
Life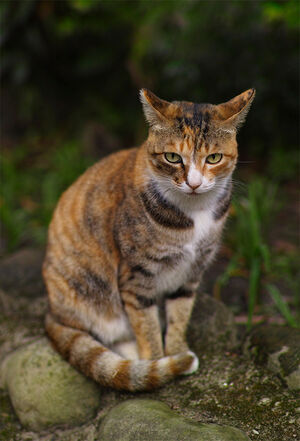 Pixels
Please do not edit this gallery unless instructed to.