Rosefur is a cream-colored she-cat with russet markings, blue eyes, and large paws.
Personality
Rosefur is a nice cat at heart, but she is pretty grouchy. She likes to battle and is very snappy. She loves her kits, but sometimes they can annoy her.
Life
She is featured in The Truth About Lilypaw. 
Image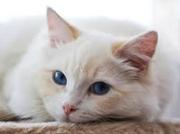 Ad blocker interference detected!
Wikia is a free-to-use site that makes money from advertising. We have a modified experience for viewers using ad blockers

Wikia is not accessible if you've made further modifications. Remove the custom ad blocker rule(s) and the page will load as expected.