Rufio
is a curly- furred light brown tom with amber eyes. He is a
rogue
and former warrior of
SummerClan
, the son of
Mallowpool
and
Sheeppelt
, the brother of
Tansyspring
and an unnamed cat, the former mate of the deceased
Hackberrynose
and the father of
Sharpkit
. 
Unlike his energetic sister, Rufio is a very cold and bitter tom who is distant from all of his family members, even his son after they got onto rocky terms. Easily irritable, Rufio hates somebody challenging him, or else they'll get it. However, he is also regretful for his past sins, but refuses to show it, making him seem more arrogant than a usual cat.
Appearance
Rufio is a curly- furred light brown tom with amber eyes. More coming soon
Health
Physical health
Rufio is a physically healthy cat who has a strong immune system, although is suspectable to illnesses and infections like all other cats.
Mental health
While rather bitter, Rufio doesn't really have any mental health issues.
Character
Unlike his playful and friendly sister, Stoatfeather is known for his bitterness and razor sharp tounge. An anti social cat, he loves having time to himself and will often snap at cats who get in his space. However, Stoatfeather does have a heart of gold, although he hardly ever shows it and does feel remorse whenever he sees his sister.
Skills and abilitites
Stoatfeather is a very swift cat, which makes him a talented hunter, although he is more of a fighter.
Life
Coming soon
Pedigree
Father
Sheeppelt- Deceased, Faded
Mother
Mallowpool- Deceased, StarClan resident
Sister
Tansyspring- Living
Sibling
Unnamed- Status unknown
Mate
Hackberrynose (Formerly)- Deceased, StarClan resident
Son
Sharpkit-Living
Uncle
Twigheart- Faded
Grandfathers
Unknown SummerClan cat- Deceased, Faded
Unknown Loner- Status unknown, most likely deceased
Grandmothers
Dawnfeather- Deceased, Faded
Darksplash- Deceased, Faded
Relationships
Family
Mallowpool- Like his sister, Stoatfeather had a strong bond with his mother as a kit, although grew distant from her when he became an apprentice, completely breaking it off at warriorhood, which hurt both Mallowpool and Tansyspring. However, Stoatfeather secretly thinks about her at times when he feels like he should.
Sheeppelt- Stoatfeather seems interested in knowing his father, unlike Tansyspring. He often thinks about what he would do if he ever knew him
Tansyspring- Although he hardly shows it, Stoatfeather really cares about his sister, although often ignores her as he feels pained when he looks at her and remembers when he cut off his bond with his mother and her in apprenticeship. He does want to make amends, although isn't sure how.
Sharpkit- Stoatfeather loves his only kit dearly and is one of the few cats that he actually doesn't ignore. He often tries to make as much time as possible to see Sharpkit and even try to befriend others. However, his strong bond with his kit was part of his break- up with his mate.
Notable
Coming soon
Friends
Coming soon
Love interests
Hackberrynose- At first sight, Stoatfeather felt a bit of comfort from his pain, and became mates a while after. However, things got worse for them when Stoatfeather forgot her and got over- protective of his only kit. This causes Hackberrynose to break up with him and Stoatfeather, who just wanted to teach his former mate a lesson, really engineered in her death. He hopes she can forgive him and they can get back together in StarClan.
Enemies
Coming soon
Images
Life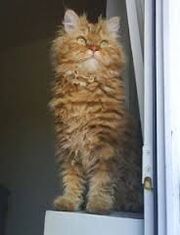 Trivia
Stoatfeather was originally going to look exactly like Tansyspring, although Meerkat decided to change his looks.
Stoatfeather, much like Wollow, was made to add drama to the plot Meerkat has for her SummerClan cats (and to name one of Tansyspring's siblings.)
Stoatfeather's bitter personality is most likely from his deepest regrets in life.
Rufio went to StarClan, because his mother realised that he was truly sorry for his sins and he kept his rogue name as he preferred it over his clan name.
Ad blocker interference detected!
Wikia is a free-to-use site that makes money from advertising. We have a modified experience for viewers using ad blockers

Wikia is not accessible if you've made further modifications. Remove the custom ad blocker rule(s) and the page will load as expected.