Sacredkit is currently inactive and is available at the Adoption page.
Sacredkit
Affiliations
Current
SpringClan
Name
Given
Kit: Sacredkit
Life
Age
Unknown
Status
Unknown
Debut
Unknown
Family
Father
Huntingshadow
Mother
Sappho
Siblings
None
Mate
None
Kits
None
Roleplay
Owner
None
Sacredkit is a large, broad shouldered, handsome, very muscular, glossy-long-furred white tom with jet black stripes shaped like cracks, warm, amazing, bright sun-colored eyes. He has long, thorn-sharp claws, long black whiskers, and a bright pink nose.
Personality
Sacredkit is a very loyal and loving tom. He is very knowing and caring, and very strong and witted in battle. He loves to hunt more than fight, and is an excellent tree climber.
Life
Sacredkit is born to Sapphosky and Huntingshadow in SpringClan.
Family
Quotes
None yet
Life Image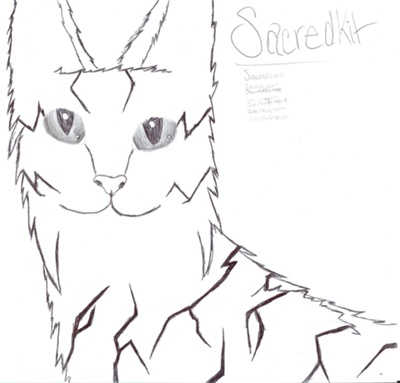 Trivia
He is not born yet, and will be born when his mother is leader (If she does become leader)
He is very important to Silverw.
There is a very small possibility that he could be Spiritheart's recarnated form's mate (Memorykit), and he'll move to WinterClan to be with her.
Ad blocker interference detected!
Wikia is a free-to-use site that makes money from advertising. We have a modified experience for viewers using ad blockers

Wikia is not accessible if you've made further modifications. Remove the custom ad blocker rule(s) and the page will load as expected.