Sandtail is currently inactive and is available at the Adoption page.
Sandtail
Affiliations
Current
SpringClan
Names
Kit
Apprentice
Warrior
Sandkit
Sandpaw
Sandtail
Life
Age
Approx. 24 moons (2 years)
Status
Living
Debut
Unknown
Family
Father
Unknown tom
Mother
Unknown she-cat
Sibling
Unnamed cats
Mate
None
Kits
None
Roleplay
Owner
None
Sandtail is a cream tabby and white tomcat. He's known for being a bit jumpy when it comes to loud noises and new settings, but otherwise bold and outspoken. 
Description
Appearance
Fluff, fluff, and more fluff. Sandtail may not look fluffy, but one touch and you'll come away with another cat. His thick, plush tan fur sheds easily, and you can often tell where he's been and for how long by how much fur is left behind. He has thick tan stripes on a lighter base - however, he looks almost solid. His chest and underbelly are while, along with his neck and upper lip. His paws are also white; so is his tail tip. 
Character
[DRAFT] Jumpy, loud, intelligent, clumsy, bit sensitive, persuasive, and more.
Abilities
Sandtail is completely average in every way - other than his balance. While others may have issues walking along narrow ledges and thin branches, he has no issue. This could partly be due to his abnormally long tail, or it could be his small and light size. Either way, it earned him the suffix -tail. 
Biography
Adulthood
Coming Soon
Pedigree
Coming Soon
Relationships
Family
Coming Soon
Love Interests
Coming Soon
Friends
Coming Soon
Enemies
Coming Soon
Other
Coming Soon
Quotes
Coming Soon
Trivia
His image is Kyra's cat, Peanut.
Images
Life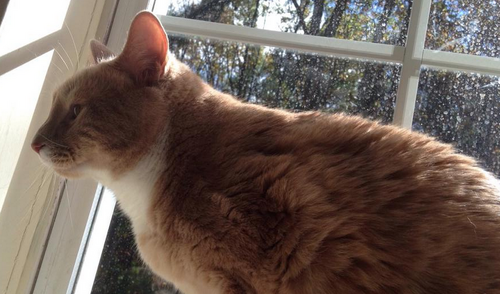 Pixels
Please do not edit this gallery unless instructed to.