Shimmermoon is currently inactive and is available at the Adoption page.
Shimmermoon
Affiliations
Current
AutumnClan
Name
Given
Shimmermoon
Life
Age
Unknown
Status
Unknown
Debut
Unknown
Family
Father
Unknown
Mother
Unknown
Siblings
Unknown
Mate
Sparkpelt
Kits
None
Education
Apprentice
Ravenpaw
Roleplay
Owner
Snowstar
Shimmermoon is a pretty, long-haired, black she-cat with shimmering blue eyes.
Personality
She is kind and caring, and loves playing with kits; especially her own.
Life
Shimmermoon is seen playing with Ravenkit, and then when she goes off hunting, Ravenkit follows her and disobeys the warrior code. Shimmermoon gets angry with the kit and brings her to Flashstar to report. After Ravenkit's mother joins the Clan, and Ravenkit becomes Ravenpaw, Ravenpaw is given to Shimmermoon as an apprentice. Shimmermoon has to give her to Sparkpelt as an apprentice soon, because she is expecting kits.
Life Image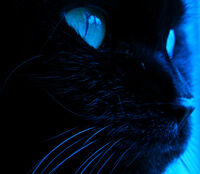 Character Pixels
Please do not edit this gallery unless instructed to.
Quotes
Coming soon!
Ad blocker interference detected!
Wikia is a free-to-use site that makes money from advertising. We have a modified experience for viewers using ad blockers

Wikia is not accessible if you've made further modifications. Remove the custom ad blocker rule(s) and the page will load as expected.