Songpaw is a small, broad-shoulder gray ticked she-cat with amber eyes and large ears.
Description
Appearance
[Draft] Looks a lot like her mother, small with broad-shoulders, long legs, thin with a short, soft gray ticked pelt, a narrow face, large ears and amber eyes.
Character
Coming Soon
Abilities
[Draft]good at climbing.
Life/Biography
Songpaw is born to Stoneblaze and Creekfrost, along with Fennelkit and Nightkit. Shortly after their birth, Stoneblaze catches greencough and dies. Stoneblaze's death hangs heavy on the kits, and is probably worsened when Creekfrost drifts away from them. Wispheart often comes to play with the kits, along with a friend of Stoneblaze, Orchidbloom. Orchidbloom becomes a mother figure to Songkit's eyes and she adores the warrior.
More coming soon
Lineage
Mother:
Stoneblaze: Deceased
Father:
Creekfrost: Living
Sister:
Fennelpaw: Living
Brother:
Nightpaw: Living
Aunt:
Talonfang: Living
Quotes
Coming Soon
Cameos
Coming Soon
Ceremonies
Coming Soon
Relationships
Family
My brother and sister are awesome! I can always count on them if I need a paw or feeling down. I don't have any friends execpt them, and that's fine with me. We always stick together.
Coming Soon
I like my father a lot, and he's obviously made an effort to do a better job at paranting, and I think he's done pretty good. I wouldn't say I'm super close with him, but I've felt the bond grow stronger as the days go by. I wish he had been there more when we were younger, but I forgive him for that. I know he loves me and my siblings and that's all that matters to me.
Coming Soon
Friends
Coming Soon
Coming Soon
Coming Soon
Coming Soon
Love Interests
Notable
Coming Soon
Images
Life
Coming Soon
Pixels
Please do not edit this gallery unless instructed to.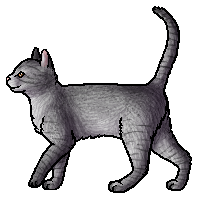 Trivia