Spiderwhisker is a stocky, black she-cat of Persian ancestry with amber eyes. She has a thick long coat, and a slightly flat face.
Personality
She's a rather level-headed cat and doesn't like to get into other's business. Spiderwhisker doesn't truly care for much, other than her Clan. She'll defend her loyalty, mainly due to her strange face is what some cats believe tell her tale. The she-cat also is very interested in cats of the past; either they be in StarClan or the Dark Forest.
Life
Spiderkit was born to a pair of warriors in WinterClan. Her kit days were spent in the elders den, listening to their stories of ancient cats. She later becomes an apprentice to Salmonstream who teaches her well. Spiderpaw soon becomes a warrior named Spiderwhisker.
Life Image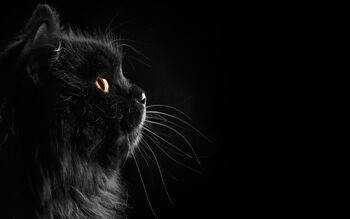 Character Pixels
Please do not edit this gallery unless instructed to.
Ad blocker interference detected!
Wikia is a free-to-use site that makes money from advertising. We have a modified experience for viewers using ad blockers

Wikia is not accessible if you've made further modifications. Remove the custom ad blocker rule(s) and the page will load as expected.