Stacy
Affiliations
Current
None
Past
The Storm Fronts, WinterClan
Names
Kit
Apprentice
Warrior
Mmeber
Queen
Dappledkit
Daappledpaw
Dappledfur
Stacy
Stacy
Life
Age
Unknown
Status
Deceased
Cause of Death
Complications during kitting
Debut
September 3rd, 2013
Last Post
September 3rd, 2013
Family
Father
Unknown tom
Mother
Unknown she-cat
Siblings
None
Mate
Quinn
Kit
Bianca
Roleplay
Owner
Beebs
Stacy is a torbie she-cat of Maine Coon descent. She was a former WinterClan warrior, before she left for The Storm Fronts on her own accord. Her mate was Quinn, but she died trying to deliver their only kit, Bianca, who died a few moments after her mother's final breath.
Description
Appearance
Health
Physical Health
Mental Health
Personality
Skills and Abilities
Life
Backstory
Roleplay
Relationships
Family
Mate
Quinn: Living
Daughter
Bianca: Deceased; Residence Unknown
Notable
Quinn: Coming Soon
Love Interests
Friends/Acquaintances
Enemies
Trivia
She is named after Fergie from The Black Eyed Peas.
She has no residence because even when she was a Clan cat she didn't believe in StarClan.
Quotes
Images
Life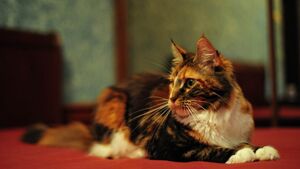 Character Pixels
Please do not edit this gallery unless instructed to.
Ad blocker interference detected!
Wikia is a free-to-use site that makes money from advertising. We have a modified experience for viewers using ad blockers

Wikia is not accessible if you've made further modifications. Remove the custom ad blocker rule(s) and the page will load as expected.