Swanfeather is currently inactive and is available at the Adoption page.
Swanfeather
Affiliations
Current
SpringClan
Name
Given
Swanfeather
Life
Age
Unknown
Status
Unknown
Debut
Unknown
Family
Father
Darknight
Mother
Snowfern
Siblings
Spiritkit, Shykit
Mate
Sunsetfall
Kit
None (yet :3)
Education
Mentor
Froststar
Roleplay
Owner
None
Swanfeather
is a light grey she-cat with icy blue eyes.
Personality
Swanfeather is kind, sweet and caring. She is always nice to everyone, and is sweet and playful.
Life
She is born to Darknight and Snowfern, with her littermates, Geckokit, Shykit and Spiritkit. She later meets Sunsetkit, and has a crush on him. When she and Sunsetkit are apprentices, they fall in love. She is seen thinking about Sunsetpaw and mooning over him. She is seen playing in camp with her siblings and talking to Wintersnow. When she becomes a warrior, she and Sunsetfall become mates. Swanfeather is seen nuzzling Sunsetfall, and she is seen walking around camp, thinking about things.
Trivia
Swankit was meant to replace Swanmask if she didn't become Lightningflash's mate, but then she ended up with him, and Snoweh decided to keep her anyway.
Swanfeather is Sunsetfall's mate
Character Pixels
Please do not edit this gallery unless instructed to.
Ceremonies
COMING SOON
Life Image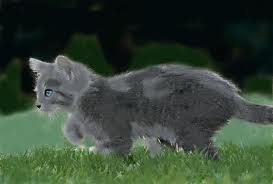 Ad blocker interference detected!
Wikia is a free-to-use site that makes money from advertising. We have a modified experience for viewers using ad blockers

Wikia is not accessible if you've made further modifications. Remove the custom ad blocker rule(s) and the page will load as expected.