Tigerkit is a ginger tabby tomkit with a short, stubby tail. He was born to Graymoon of WinterClan, along with his sisters, Dovekit, Sparrowkit, and Brightkit. He was later killed by a hawk, and now resides in StarClan.
Description
Appearance
Tigerkit is a small, fuzzy, tomkit with a short, stubby tail. Due to his father's manx heritage, he inherited his rumpy-style tail, which leaves only a small nub at the base of his spine, where his tail should be. His head is round, and his legs are stout and strong. His paws are large and oval-shaped, and his chest is fairly round, as well.
His kitten fur is downy, and gives him a fuzzy appearance, although he is short-haired by his genes. His fur is soft, due to his mother's constant grooming, although it has the tendency to fly everywhere. His pelt is a light ginger, with thin, darker orange, tabby stripes covering it.
Tigerkit's eyes are still a slightly dull, periwinkle blue, like the normal kitten-blue color. There doesn't seem to be any flecks of other colors quite yet.
Health
Physical Health
Coming Soon
Mental Health
Coming Soon
Personality
Coming Soon
Skills and Abilities
Coming Soon
Life
Backstory
Coming Soon
Roleplay
Coming Soon
Relationships
Family
Father:
Unnamed Black Manx tom: Status Unknown; Most likely living
Mother:
Graymoon: Living
Sisters:
Dovekit: Deceased; StarClan resident
Sparrowkit: Deceased; StarClan resident
Trivia
He and his siblings are part of a plot for his mother to leave WinterClan
Quotes
Coming Soon
Images
Life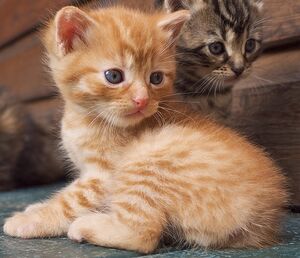 Character Pixels
Please do not edit this gallery unless instructed to.
Ad blocker interference detected!
Wikia is a free-to-use site that makes money from advertising. We have a modified experience for viewers using ad blockers

Wikia is not accessible if you've made further modifications. Remove the custom ad blocker rule(s) and the page will load as expected.