Troutpaw
is a chocolate smoke she-cat.
Description
Appearance
[DRAFT:] Overall athletic build, long-legged and bodied, powerful shoulders, large bat-like ears, clear oriental descent, lean yet muscular legs, high and defined cheek bones, wedge-shaped head, rounded almond-shape eyes. Not very swift due to her long back, but can really pack a punch if she's charging something. Softly and medium-length coat, dense water-proof fur, generally well-groomed because she cares about appearances, warm chocolate colored base, silver-cream undercoat, particularly feathery tail, semi-ruff around neck (double chin????).
Character
[DRAFT:] Innocent, curious, ridiculously naive (or so she pretends), has a vary large and wide imagination, best skill is probably holding grudges, somewhat relentless when it comes to arguments, secretly a little badass, ceratinly has an inner darkness that most aren't aware of, great at putting up little acts.
Abilities
Coming Soon
Life/Biography
Coming Soon
Lineage
Coming Soon
Quotes
Coming Soon
Cameos
Coming Soon
Ceremonies
Coming Soon
Relationships
Family
Coming Soon
Notable
Coming Soon

Coming Soon
Images
Life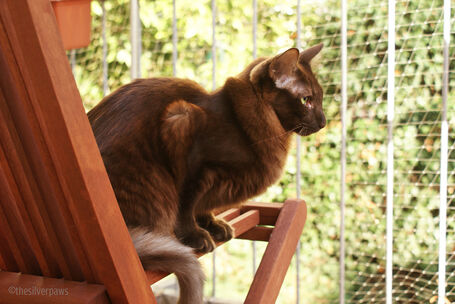 Pixels
Please do not edit this gallery unless instructed to.
Trivia
She was stolen from SplashClan by a SummerClan cat; possibly Rainingflame's father?
In a bloody fight, she may become the next SplC leader?
Her innocence will be ruined upon learning of her father's murder.
She'll be a surprisingly good mother.