Typhlosionblaze
Affiliations
Current
StarClan
Name
Kit
Apprentice
Warrior
Cyndaquilkit
Quilavapaw
Typhlosionblaze
Life
Age
Unknown
Status
Deceased
Cause of Death
fainted
Debut
Jan. ??, 2013
Last Post
Unknown
Family
Father
TBD
Mother
TBD
Siblings
None
Mate
Eeveeleap
Kits
None
Education
Mentor
Rayquazaflame
Roleplay
Owner
Crystal
Typhlosionblaze is a large, muscular, compact, long bodied, sleek creamy tom with a turquoise back, and top of head to muzzle, red spots on the ring of his neck that unleashes fire, large paws with sharp claws, and huge, shining and sharp fire red eyes.
Description
Appearance
Coming Soon
Health
Physical Health
Coming Soon
Mental Health
Coming Soon
Personality
Typhlosionblaze has changed dramatically since being an apprentice and kit, being rather quick-tempered and making anything go up in flames when angered. He enjoys battling and attacking, which is the reason why he never uses any defensive moves when in a battle. He can be a lovable warrior, even though he can't be cuddled due to his large flame around his neck.
Coming Soon
Moves
Flame Charge
Swift
Ember
Flame Wheel
Life
Cyndaquilkit is a PokéClan kit, and is seen annoying Furretpaw by flaming her. He sneaks out of camp with Oshawottkit and Lugiakit.
He is later made an apprentice, earning the name Quilavapaw, with his mentor as Rayquazaflame. He is disappointed that his mentor isn't there, and asks Eeveepaw if he can train with her. Palkiaspace allows Quilavapaw to train with the two cats, and Eeveepaw and Quilavapaw battle each other.
Ashstar tells Pikachuspark to set up a hunting patrol, and she tells a few warriors, Quilavapaw, and Eeveepaw to go hunting. Quilavapaw is excited, and tackles Eeveepaw. Eeveepaw playfully bats his nose, then tells him they should go hunting. Quilavapaw agrees, and dashes out of camp with Eeveepaw.
Quilavapaw is later made a warrior, and earns the name Typhlosionblaze. He evolves.
Character Pixels
Please do not edit this gallery unless instructed to.
Cermonies
Cyndaquilkit's Apprentice Ceremony
Ashstar: "May all the cats old enough to catch their own prey, join here beneath the ____ for a clan meeting!"

Narrator: "He looked at the kits."



source
Life Image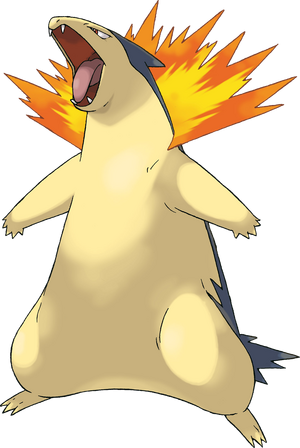 Trivia
While becoming an apprentice and warrior, he will get his evolution names, so his apprentice name is Quilavapaw, and his warrior name is Typhlosionblaze.
His mate may be Eeveepaw.
Ad blocker interference detected!
Wikia is a free-to-use site that makes money from advertising. We have a modified experience for viewers using ad blockers

Wikia is not accessible if you've made further modifications. Remove the custom ad blocker rule(s) and the page will load as expected.