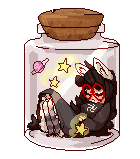 Profile
❤
Talk
❤
Contributions
❤
Edits
❤
Sandbox
❤
Plans
❤
Sig
nature
❤
Cats
❤
Deceased Cats
Please add a heading before messaging me.

Problem Reports Should Not Go To Individual Rollbacks
All reports should be filed in the Community Portal Reporting Center Staff members DO NOT have to respond to problem reports not in the right place on the Wiki. Failure to file reports in the correct spot may lead to deletion of the report. Screenshots must be provided.

you have reached the life model decoy of shadowed crystal please leave a message

Before leaving a message, please add a new heading. Thanks!