Velvetcreek is a beautiful, smoky black she-cat with pointed tabby stripes.
Personality
Coming Soon
Biography
Her sister is Shellshore. She doesn't really want a mate.  Velvetcreek is seen in Froststar's Story, and Shellshore's Beginning.  She is often seen mooning over Warmpelt as a kit.
Velvetcreek isn't seen much.  She then retires.
She is seen a few times playing with Ashkit in the nursery while his mother is out, but otherwise isn't seen around camp too often. Several moons later, in leaf-bare, she comes down with greencough and dies within a day.
Family
Coming Soon
Trivia
Life Image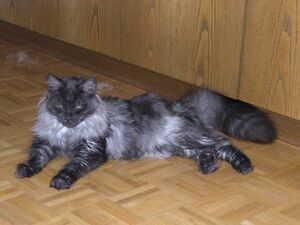 Ad blocker interference detected!
Wikia is a free-to-use site that makes money from advertising. We have a modified experience for viewers using ad blockers

Wikia is not accessible if you've made further modifications. Remove the custom ad blocker rule(s) and the page will load as expected.